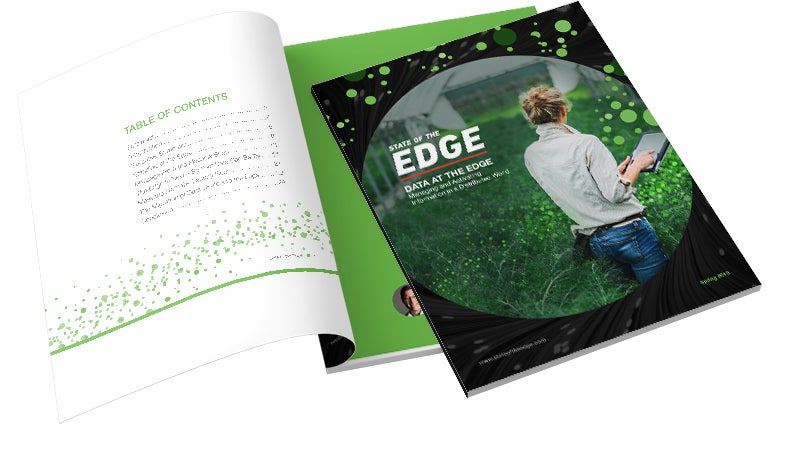 State of the Edge has published its first topic-specific report, Data at the Edge: Managing and Activating Information in a Distributed World. Building upon the inaugural edge computing ecosystem report published in June of last year, this topical report focuses on managing and activating information using edge computing. The report is freely available here.
The 26-page Data at the Edge report is available free of charge. In the report, we examine how data is shaping the rise of the edge. It provides an overview of existing research and predictions around data growth, as well as highlights how business will become more efficient and competitive by extracting previously untapped value from data using edge computing. Key findings of the report include:
Data is proliferating at unprecedented speeds:

Data generated by the year 2025 is expected to exceed 175 zettabytes, a tenfold increase from 2016 levels. The need to manage this staggering volume of data is going to be a key driver of distributed architecture.

The center of data's gravity is shifting

to the edge of the network. As a result, data will need action at or near the edge and away from the core.

Four key factors drive demand for edge computing: latency; high data volume accompanied by insufficient bandwidth; cost; data sovereignty and compliance.
It won't be cloud versus edge; it will be cloud with edge.

As massive amounts of data are created outside the traditional data center, the cloud will extend to the edge.

Centralized cloud computing will persist

, though edge computing will create radically new ways in which we create and act upon data, creating new markets and unlocking new value.
Be sure to get your free copy.
About State of the Edge reports
State of the Edge reports are produced and funded collaboratively by a growing coalition of edge computing companies, with an explicit goal of producing original research without vendor bias and involving a diverse set of stakeholders. Supported by member funds and a community-driven philosophy, the State of the Edge mission is to accelerate the edge computing industry by developing free, shareable research that can be used by all. State of the Edge reports are made available under a Creative Commons 4.0 license, which allows materials to be shared free of change, encouraging the widest possible distribution.
An Open Source Ethos
Since its launch, State of the Edge has made significant open source contributions, including the Open Glossary of Edge Computing, which is now officially housed under The Linux Foundation's LF Edge group, dedicated to edge computing projects. Today the organization is announcing the donation of the Edge Computing Landscape Map to The Linux Foundation, to be led by the Open Glossary project.
How to Join
State of the Edge is open to any company in the edge computing ecosystem. Companies may inquire about membership by emailing state.of.the.edge@gmail.com. Membership is $7,500 per year for most companies, with a special discount for startups with 30 or fewer employees ($2,500/year).